Can CBD Help Dogs With Joint Pain and Arthritis?
Yes, CBD can be very effective at relieving the symptoms of joint pain and arthritis.
Studies have shown that CBD can have powerful pain-relieving and anti inflammatory effects, making it a very viable option for treating the symptoms of arthritis.
By boosting ECS activity in the body, CBD can help reduce a wide variety of inflammation in organs like the pancreas and lungs, the brain, and, most importantly, the joints.
Cannabinoids (cbd) has a wide variety of medicinal benefits, and research shows it can work as a powerful anti anxiety supplement. studies have showen that CBD produced unique anti anxiety effects and could help control generalized and stress-induced anxiety as well as obsessive behaviours.
Some research suggests that CBD can stimulate specific serotonin receptors in the brain (known as 5-HT1A receptors), just like SSRIs like ProZac or Paxil.
By temporarily blocking the absorption of serotonin, CBD can increase serotonin levels in the brain.
This temporary boost of the serotonin system can be very beneficial, helping reduce anxiety and fear, as well as improving mood.
Research also shows that CBD can promote neurogenesis in the hippocampus, a part of the brain that plays a key role in the formation of memories and controlling cognition.
Treating dog behaviors (like aggression) is not one of the simplest tasks, and therefore you need to commit yourself to it. Success of treatment will greatly depend on taking the right approach and also understanding how the aggression started. Therefore you need to be closely monitoring the dog to know what could be causing this aggression.
For successful dog aggression treatment, it is recommended that you adopt a routine approach since this is an issue that is more of behavioral related. Therefore behavioral modification skills might be important in dealing with the issue. Using the wrong approach will lead to additional problems in your dog. You need to apply the methods that will give your dog relaxation, self-control, and stress reduction.
Cannabidiol has been used as a therapeutic treatment for several years. It is a method that gives a relaxation effect which is important to reduce dog aggression. Therefore using cbd oil for dog aggression has been found to be a safe and effective method.
You can add the foods that contain CBD treats to give the soothing effect associated with Cannabidiol to your dog regularly so that the dog will improve. Note that this method gives the calming effect to the dog. Therefore the dog does not respond aggressively whenever there is an attack.
Cannabinoids (cbd) can support the immune system's ability to modulate activity, allowing it to control cellular degeneration. This helps prevent:
Arthritis

Joint issues

Neuropathic disorders

Neurological disorders (such as seizures)

Blood disorders

Tumors and cancers
Supporting the immune system in this way allows the cells to fight off free radicals, helping to prevent the development of cancerous cells.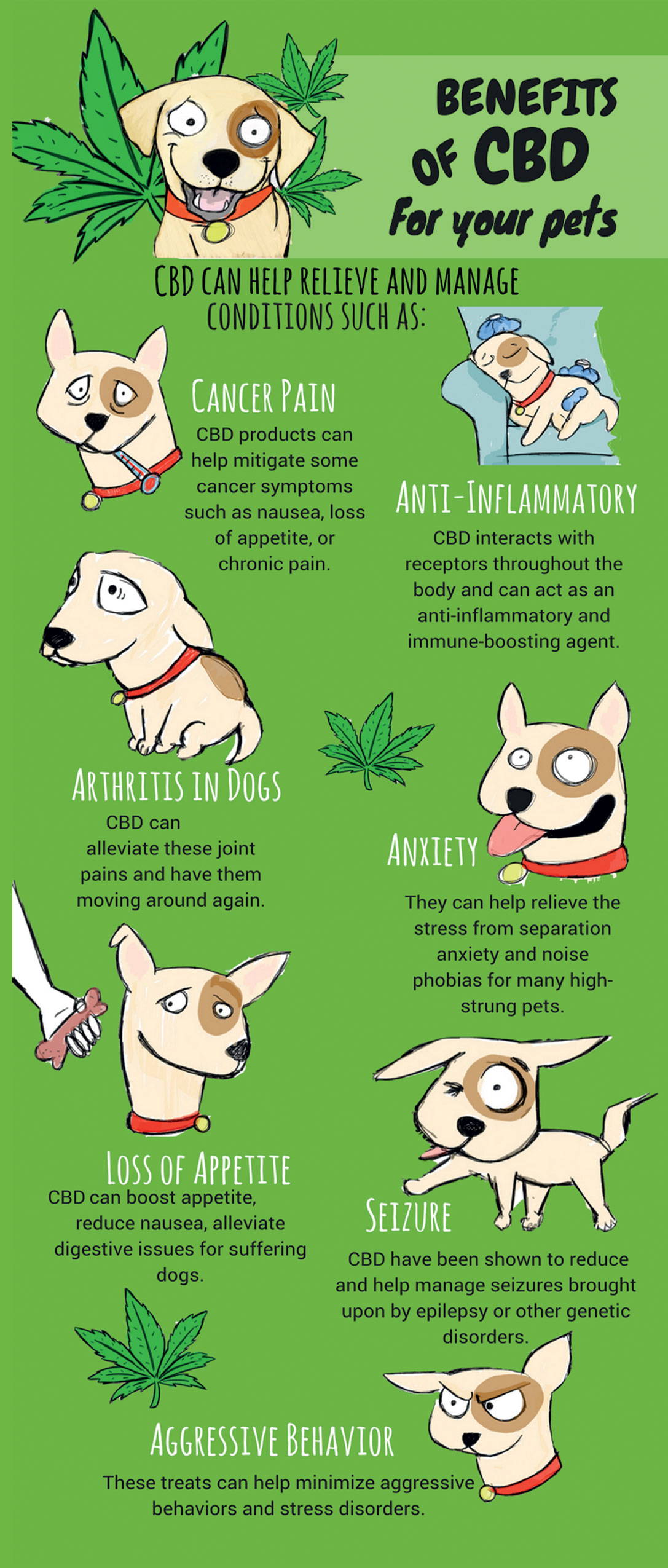 The above statements are strictly informational opinions and should not be considered medical advice. Consult with a physician before use if you have a serious medical condition or use prescription medications. These statements have not been evaluated by the FDA. These products are not intended to diagnose, treat, cure or prevent any disease.